Puede que el porno actual no tenga ningún interés comparado con el de hace tres o cuatro décadas, reivindicado incluso por algunos reputados críticos y cinéfilos de pro por su estética y componente kitsch. Pero creemos que merecía la pena reseñar la autobiografía de Tera Patrick, una de esas cenicientas de la industria porno de los últimos años, aunque únicamente sea por su relación con el mundillo del Rock and Roll: Tera es la mujer de Evan Seinfeld de Biohazard, y este alterna el mundo de la música con su carrera como actor y director porno. De hecho su historia de amor y su vida en común ocupa gran parte de la obra.
"Sinner Takes All. A Memoir of Love Marriage & Porn" está escrito por la propia Tera junto a Carrie Borzillo, periodista autora de obras como "Cherry Bomb" y "Eyewitness Nirvana", y además esposa de Chris Vrenna, al que sin duda los fans de Nine Inch Nails recordarán. El libro, recién editado en los Estados Unidos, nos habla de episodios dramáticos en la vida de la "actriz" (lo entrecomillo porque obviamente algunos lectores protestarán antes esta consideración), como su despertar sexual con un hombre bastante mayor que ella, o sus problemas con el alcohol y los tranquilizantes que sin duda tienen relación con sus depresiones e intentos de suicidio. Tera Patrick hace un ejercicio altamente emocional y sospechamos que catártico, que no duda en enriquecer mediante consejos sexuales repartidos aquí y allá. Aunque, como decíamos más arriba, es su historia de amor con Evan Seinfeld la que ocupa la mayor parte del libro. Por ello es tan extraño que el hombre al que considera como su príncipe azul y que le ayudó a levantar su valioso imperio pornográfico, al acabar la obra no sea más que un aprovechado cuya única ambición e interés fuera utilizar a la pornstar en su propio beneficio. Pero no todo es dramático, porque también hay un buen puñado de anécdotas divertidas, además de numerosas fotografías.
Quizás no sea la autobiografía definitiva, pero se deja leer.

"Sinner Takes All. A Memoir of Love Marriage & Porn" está editado en Estados Unidos por la editorial Gotham/Penguin.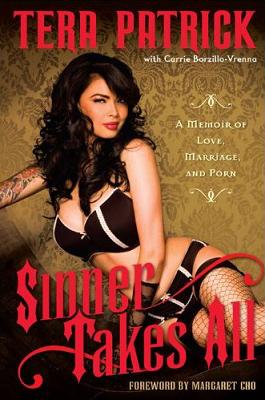 Comentarios
(1)
Que hdp!
escrito por Lucas, January 19, 2011
Escribir comentario